Joanna Gaines has established herself as a leader in rustic yet modern farmhouse style – beginning with her Waco home. 
The HGTV designer is synonymous with earthy color palettes emphasizing her home's original architectural assets – wooden beams and shiplap included. Her kitchen's cabinetry color, however, is markedly braver –  and, say, trend forecasters, the top color trend for 2025.  
While much of Joanna's kitchen follows her traditional earthy color scheme, the designer has injected a notably darker hue across her kitchen cabinets – a deep, dark blue, which contrasts strongly with the softer green shiplap walls and cream countertops. It is this color that the trend forecasters at WGSN and Coloro are predicting will shape future design trends. 
The exact color in question that forecasters have named as a future classic is Future Dusk, a 'dark, moody and intriguing hue' that is said to sit between blue and purple. It has a sense of mystery and escapism and feeds into themes of transition – making it perfect for a period of immense change – both in our interiors and our lives as a whole. 
'For several seasons now, Coloro has seen brands shifting towards palettes with long-lasting appeal; Future Dusk is an inspiring color that supports this trans-seasonal approach,' comments Caroline Guilbert, the head of creative content for Coloro. 'It appears warm and deep, making it feel moody, mysterious, and timeless.'
At first glance, Joanna's cabinets may seem like a slightly unexpected choice for the Magnolia co-founder, who is so associated with bright creams, whites, and grounding neutrals. However, despite its darker façade, designers say these colored cabinets are just as therapeutic as their brighter counterparts.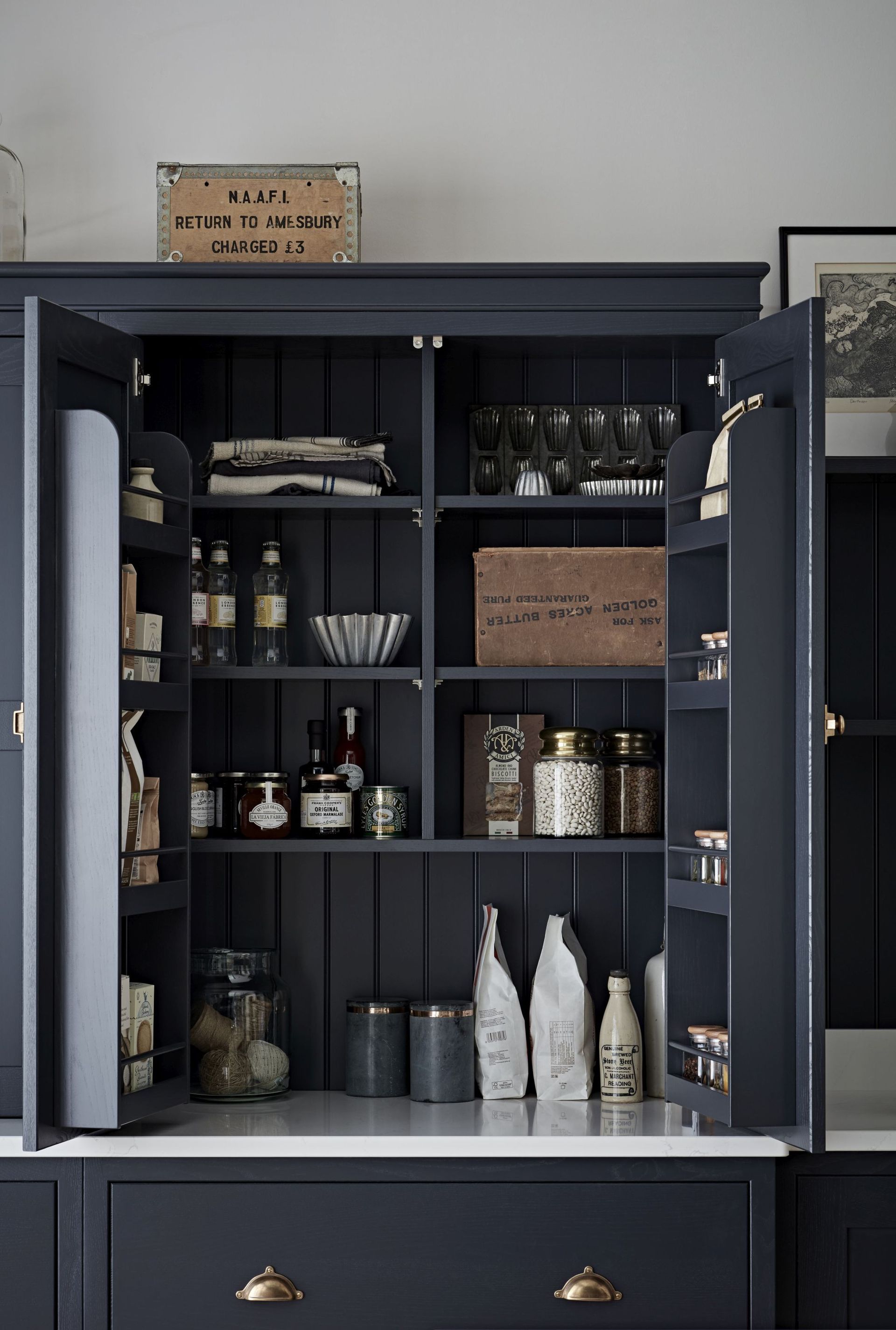 'Blue is the new black. The boldness and warmth found in blue will continue to be prominent in our homes,' comments Martin Waller, the founder of global design brand Andrew Martin on the initially somber tone. And he is not alone in his celebration of the shade.
According to research from paint experts at Benjamin Moore, blue was recently revealed as the 'most popular color globally' – and painting our cabinets like Joanna's is the most impactful way to experiment with ease. 
'Paint an accent wall or set of cabinetry in the kitchen for a saturated, ultramarine take on the deep navy-blue cabinet,' they say. 'This creates a focal point that will add interest, depth, and personality to the social hub of the home.'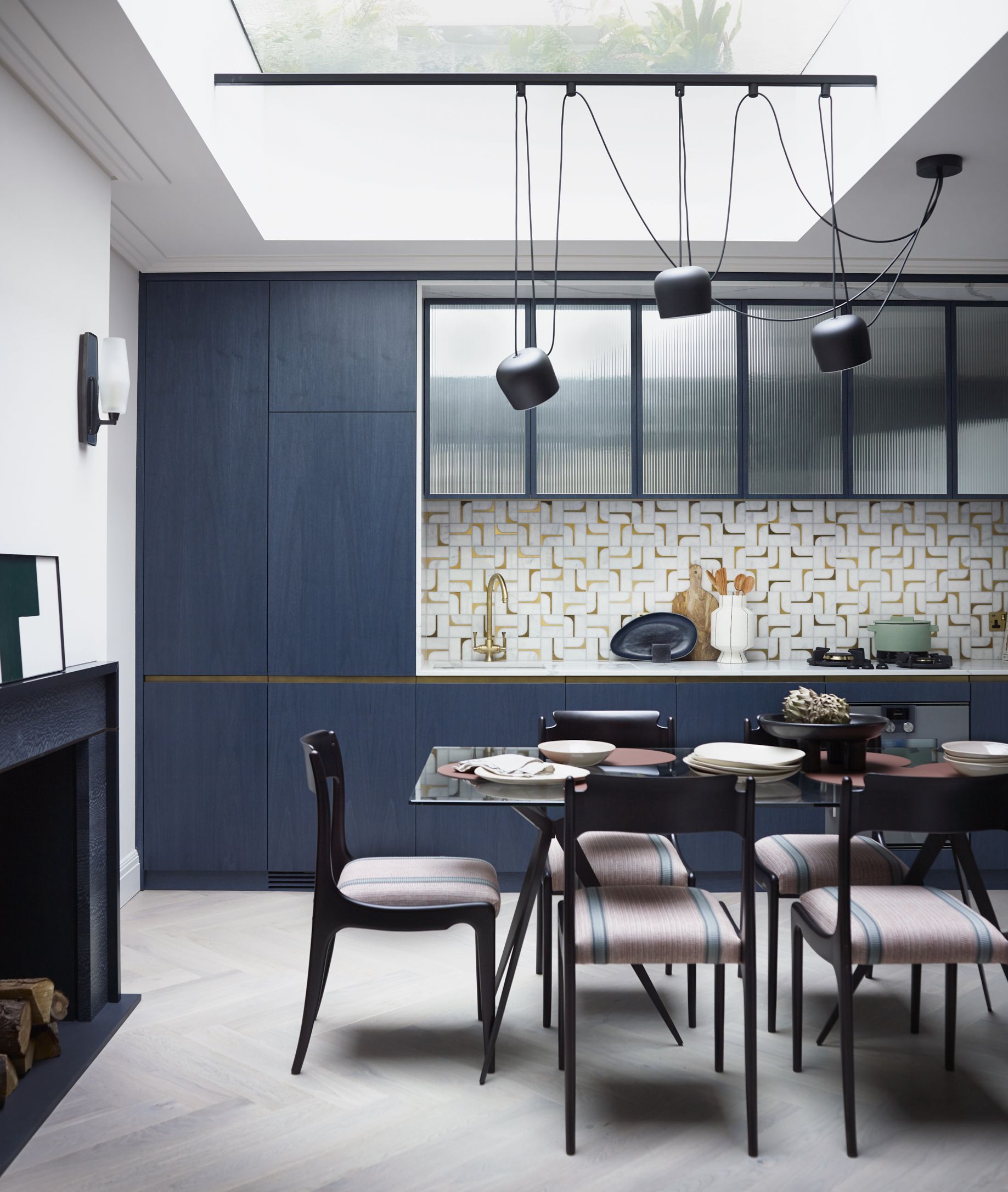 And, while Joanna may have balanced her blue with lighter wall paint, the experts at Benjamin Moore suggest a braver color scheme.
'With colors this rich, don't be afraid to go bold with an all-encompassing color-drenched look,' they say. This could be through dark blue appliances and accessories – or our walls.
We're beginning with this similar match, available via Backdrop below.
---
And for more Joanna Gaines-inspired decor, we're turning to her brand, Magnolia, who are currently having a 4th July sale. You can find our top picks below.
This hand-carved natural serving board is brilliant for the summer. Crafted specially for Magnolia, mango wood is strong, durable, and maintains a high luster over the years.
Most people wouldn't think of having a lamp on their countertops, but it's a striking style choice. In the kitchen, it adds a warm glow and organic texture.
Related Posts