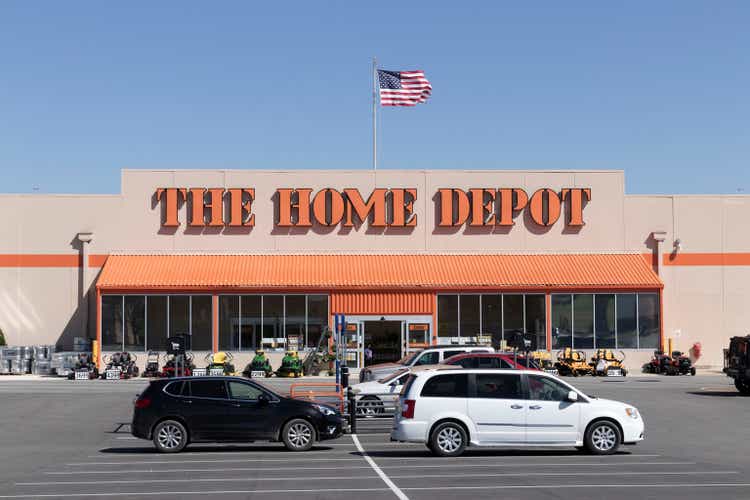 Overview:
Home Depot, Inc. (NYSE:HD) and Lowe's Companies, Inc. (NYSE:LOW) are the two largest home improvement retailers in the US with over 2,000 stores each. And these stores are enormous, averaging over 100,000 SF each. The total market for home improvement sales is approaching $500 billion per year.
Lowe's was founded in 1946 and Home Depot in 1978.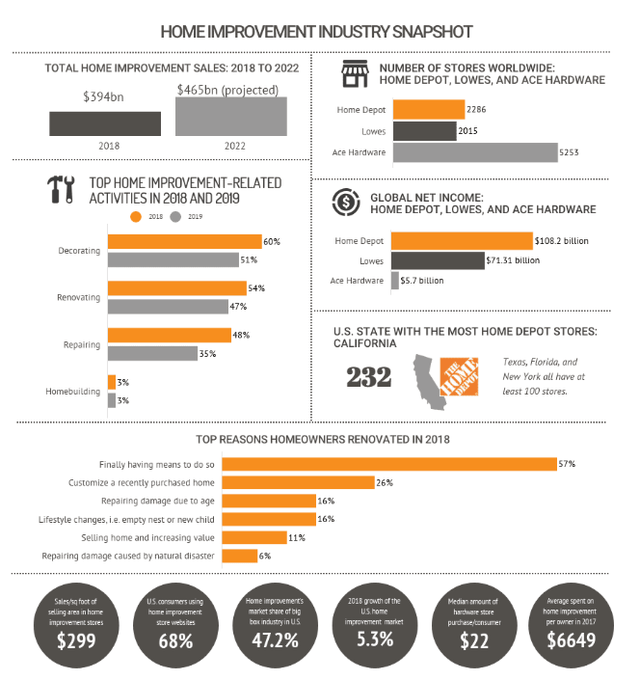 Although Ace Hardware has more stores than either HD or LOW, they tend to be much smaller and do not compete in most areas such as lumber and home improvement. Home Depot and Lowe's are about as dominant as any duopoly in the US.
In this article, I will compare HD to LOW to see which is the better long-term buy.
Home Depot and Lowe's Stock Key Metrics
As you can easily see in the table below, HD is a larger company based on revenue (Line 2). But when it comes to Price/Sales (Line 3) Lowe's appears to be a much better value with a ratio of 1.3x versus HD's 2.2x.
Gross Margins (Lines 5, 8 and 9) are also interesting with HD and LOW having about the same gross margin overall (Line 5) 34% to 33%, but Lowe's has a higher GM percentage (25%) than Home Depot's 16% when compared to Market Value (Line 8).
This could imply that Lowe's is relatively underpriced compared to Home Depot.
The PE Ratio (Line 11) is another metric where Lowe's PE of 15.4x appears to be undervalued compared to Home Depot's higher 19.8x.
Price to FCF (Free cash flow) is an area where Lowe's once again clearly outperforms HD. That puts the Price/FCF ratio strongly in Lowe's favor with a much lower ratio of 17.3x compared to HD's 33.1x.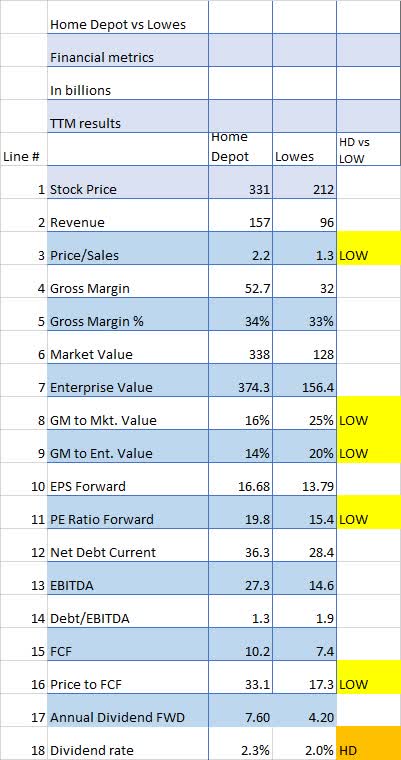 Lowe's dividend rate of 2% (line 18) is marginally lower than HD's at 2.3%.
Based on current financial metrics, Lowe's has better numbers than Home Depot.
Is Home Depot A Direct Competitor To Lowe's?
Home Depot and Lowe's compete in virtually every submarket they derive revenue from. These two companies look like twins when you examine the details that make up their revenue streams.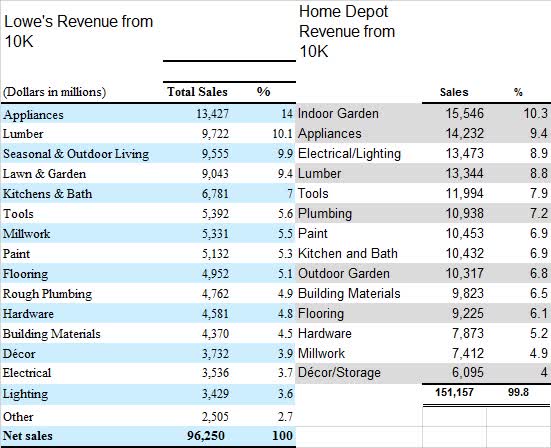 Surprising to me was how big a percentage of sales were appliances, 14% for Lowe's and 9.4% for Home Depot. The lawn and garden segments were also very large for both companies. And who would have guessed $10 billion in sales of decor between the two?
How Are Home Depot And Lowe's Stocks Different?
If there are any differences other than the minor difference in revenue sources as outlined in the previous paragraph, it would be sales per store.
With 2,286 stores and total revenue of $157 billion, HD's revenue per store is about $70 million. Lowe's on the other hand has revenue of $96 billion and a store count of 2,015 which results in revenue per store of about $50 million.
However, according to the financial metrics above, both companies have about the same gross margin percentage.
Another difference is Home Depot's substantial overseas locations, especially in Canada.
Although the duopoly is alive and well, revenue over the last five years shows a steady increase for both companies with HD up more at 56% compared to LOW up by 40%. Notice the big jump starting in early 2020 as COVID-19 drove people to stay home and fix up their houses.

Are These Stocks Fairly Valued?
If we look at analysts' ratings for both stocks we see that Home Depot and Lowe's are rated roughly the same by analysts. Home Depot has 31 Buy recommendations and four Sell recommendations.
Lowe's on the other hand has 25 Buys but only two Sells.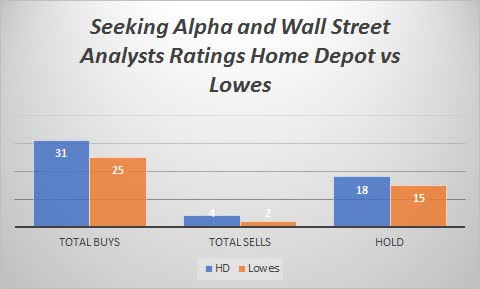 Looking at the quant ratings Home Depot has a Hold rating while Lowe's has a Buy rating. Note over the last year, quants have had LOW as a Buy for a larger portion of the time.
Do the quants know something about Lowes the analysts don't?


Both these stocks are more fairly valued now than they were one year ago, but are they reasonable enough for investment in 2023 considering the risks for the world economy, rising interest rates, and customer indecision?
Is Home Depot Or Lowe's Stock A Better Buy?
One of the advantages Lowe's has over Home Depot is the consistent share buyback plan that has been in place for years. Looking at the share comparison between the two companies we can see that Lowe's share count has dropped by 44% over the last 10 years while Home Depot's is down a lesser 32%.

Over the last one-year period, both stocks have fallen by a similar amount on a Total Return basis, Lowe's by 14% and HD by 12%.

These two companies are so similar it is difficult to pick one over the other.
One possible advantage Lowe's may have is a new CEO Marvin Ellison who was formerly CEO of JCPenney and, yes, before that he held several executive positions with Home Depot.
"He's trying to essentially Home Depot-ize Lowe's. He's divesting non-core businesses and focusing on the US business and the core stores." Source: depot-lowes-difference-2018-12?op=1″>Seth Basham
That could be a plus, but after looking at all the comparables, how much different can these two companies be long term?
With more favorable and conservative financial metrics and a new CEO, I rate Lowe's as a Buy and Home Depot as a hold.
Related Posts