FURNITURE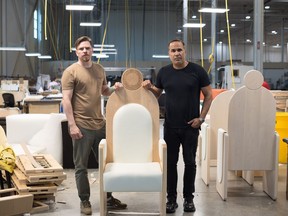 Article content
In a warehouse just outside Toronto, furniture makers put final touches on historic pieces that are to be part of Pope Francis' journey to Canada.
Article content
Beginning with wood from maple and oak trees, the designers bring to life sketches that were put to paper a month ago.
The final products are eight chairs standing roughly 55 centimetres high — about eight centimetres higher than a regular dining room chair — adorned with white padding and a carved wooden crown depicting a swirling image of soaring eagles, salmon and a caribou herd.
The chairs are for the pontiff to use at each of eight public programs he is to take part in during his Canadian tour, which begins Sunday and ends July 29 with stops in Alberta, Quebec and Nunavut.
Quality and Company, a custom furniture manufacturer based in Maple, Ont., was commissioned to make the one-of-a-kind pieces.
"We pulled all our resources here to get this to happen –all hands were on deck," says company president Frank Caruso.
Article content
Close to 30 people, from designers to carvers to upholsterers, worked hundreds of hours so the chairs would make it to their final destinations.
In the end, the team constructed two different designs for the chairs using specs provided
…
Read the rest