PICTURED: Jimmy Earl (left) and Mitch Forman at The Grape on Aug. 22, 2022. Photo by Seth Brandes
by Nancy D. Lackey Shaffer
The Grape
2733 E. Main St., Ventura
805-212-6130
thegrapeventura.com
The life history of The Grape is a convoluted one. From Camarillo to Ventura, from winery to nightclub, shifting ownership, changing spaces, shutdowns and remodels and a years-long-delayed reopening, its story is full of twists and turns, as tangled as a mature vine.
It was first planted, if you will, in Camarillo in 2003, when Carolyn Taylor and Gwen Ripplinger opened a make-your-own-wine shop that they called Squashed Grapes. Josh McNutt, a home winemaking hobbyist, started working there and eventually purchased the shop. One day, shortly after taking over ownership, an East Texas native named Adam Randall walked in, "trying to sell me insurance," McNutt recalls with a chuckle.
The chance meeting yielded both a friendship and a business partnership that has flourished through the years.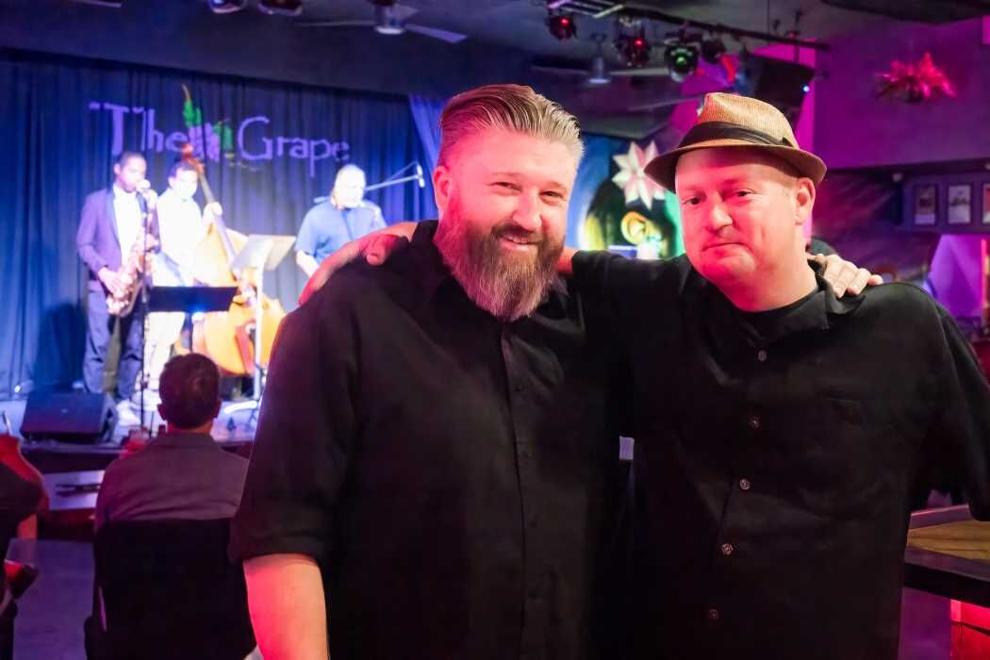 Randall came on as a co-owner around 2009, and the two moved the enterprise to Midtown Ventura (near the corner of Main and Seaward) a few years later. It was here that the venue would truly take root, as a small but dedicated fan base began to grow.

"We started as a winery," Randall confirms. Small batch, locally made wines were its stock in trade, designed to be consumed sooner rather than later.

One day, opportunity came knocking when local musician Dano Marino walked through the door. He was looking for a gig and thought that Squashed Grapes would be the perfect spot for a weekly acoustic set. He started playing on Fridays during happy hour wine tastings, and was an immediate hit. 

…