HOME IMPROVEMENT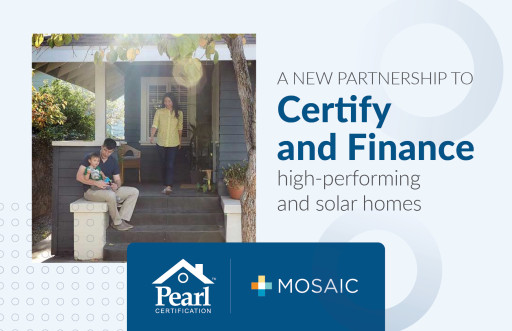 CHARLOTTESVILLE, Va., July 12, 2023 (Newswire.com) – Pearl Certification, the leading third-party certification for energy-efficiency and home performance installations, and Mosaic, a sustainable home improvement financier, announce a new partnership to benefit homeowners and high-quality contractors.
Both Pearl Certification and Mosaic serve contractors who specialize in energy-efficient home improvements and solar installations. Through the new partnership, these contractors can make sustainable home improvements more affordable with Mosaic's financing, while ensuring homeowners capture the value of their investment for future refinancing or resale with Pearl's third-party home certification.
"We are excited to embark on this new partnership with Mosaic. Both of our companies work with some of the best contractors in the business, who provide the highest level of customer service for homeowners," said Cynthia Adams, Pearl's CEO and co-founder. "We understand how important financing is to helping folks afford energy efficiency and solar installations, but just as important is working with a contractor who provides consultative solutions that meet homeowners' goals. We look forward to bringing the equity-enhancing advantages provided by our third-party certification to Mosaic's contractors and the homeowners they serve."
Pearl has captured $1 BILLION in added home equity by certifying work performed by high-quality contractors and plays a vital role in quantifying the value energy-efficient home improvements bring to the home. In this way, the best contractors are able to differentiate from lower-quality competitors and give U.S. homeowners peace of mind through third-party certification. When marketed correctly, Pearl Certified homes can add 5% or more to a home's sale price.
"Pearl Certification is a win-win for contractors and homeowners alike," said Eric Torykian, Mosaic Business Development Leader for HVAC. "Pearl makes it easy for homeowners to increase the comfort, energy efficiency, and value of their homes by investing in high-performing upgrades. It also allows contractors
…
Read the rest