Sometimes a new chapter in the life of a period property happens organically, as the needs of its inhabitants change over time; on other occasions, a renewed decorative confidence prompts a definitive step change. 
In the case of Amalie and Charles White, the latter is true. The couple, who have two young boys, decided to shake things up three years ago and move from their Hertfordshire home. 
Craving a return to life in the capital, they found a large Edwardian home close to Hampstead Heath, London, location of many of the world's best homes, and undertook an imaginative renovation guided by Nicky Mudie of design firm Violet & George (opens in new tab). 
'We probably played it safe before, with lots of easy-on-the-eye neutrals,' says Amalie. 'But this time, we were craving more colorful interiors that better reflected our personalities and our love of travel; we wanted schemes that were adventurous.' 
The property the couple found required what they thought would be a few minor architectural tweaks and a decorative facelift. But when they discovered some unexpected structural issues, including rotting joists, they decided on a complete strip out. 
Unusually for such a comprehensive renovation, they did not extend or significantly alter the original footprint. Instead, on the ground floor, the kitchen and rear sitting room swapped places, bifold doors were added for a better connection to the garden and corridor space was reworked to allow for a cloakroom, mud room and extensive storage.
Hallway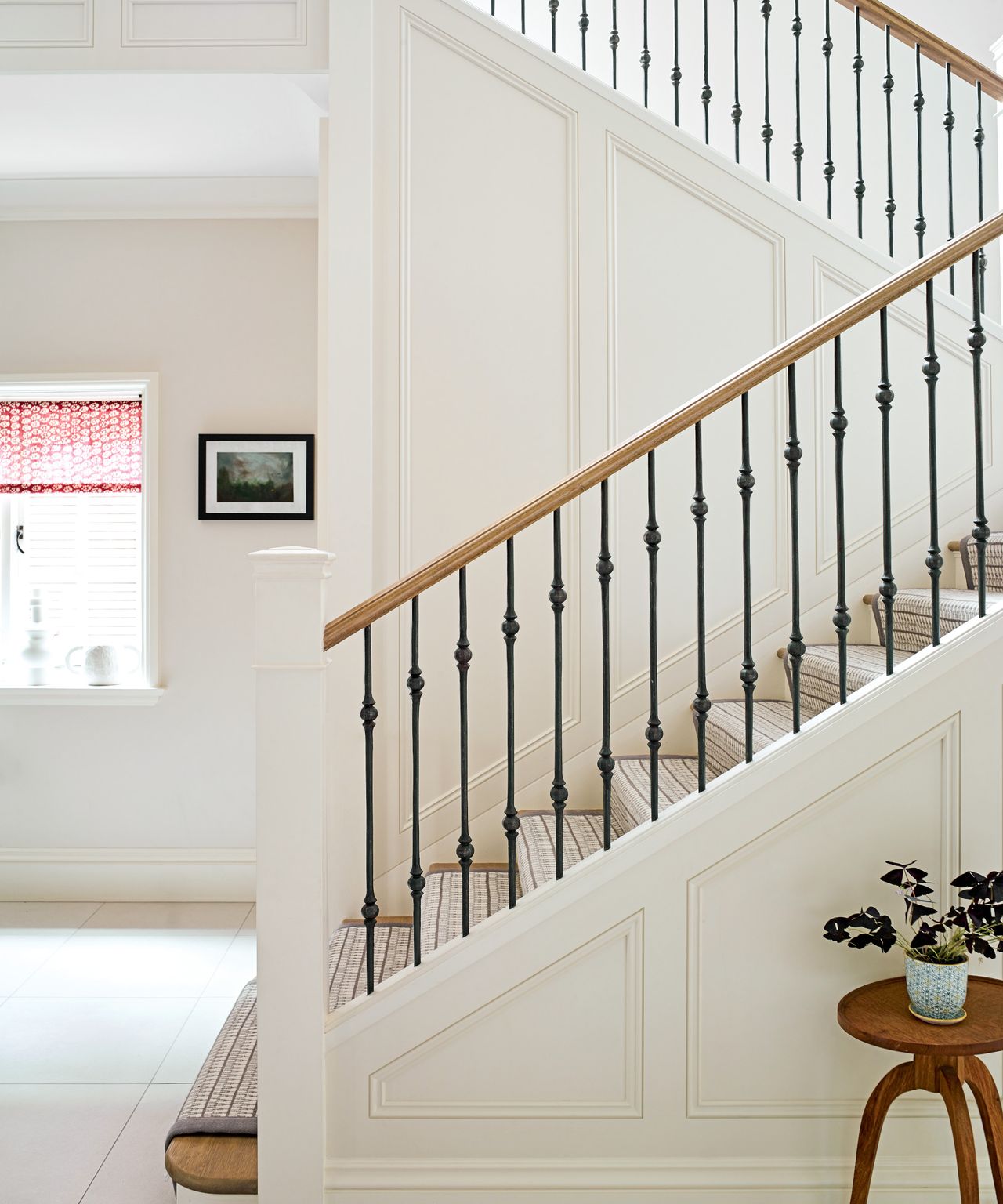 Hallway ideas centered on keeping the walls neutral so the beautiful banister would stand out.
Practical solutions in this family home include hidden understairs storage.
Living room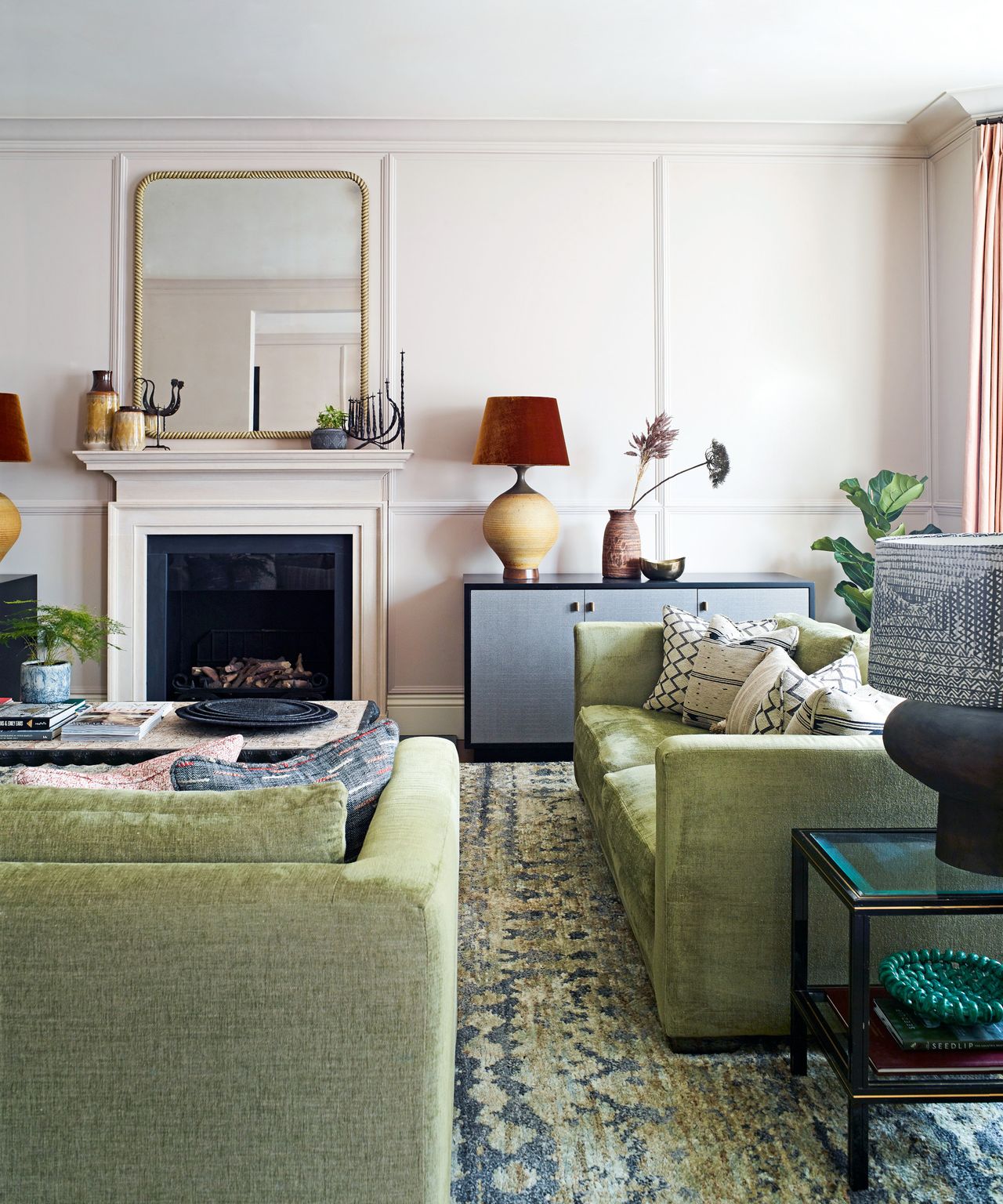 Among Nicky's living room ideas is the use of a palette of greens and blues, a recurring motif, seen in joinery finishes and soft furnishings. 'They are prominent but not overpowering,' says Amalie, 'which makes them a brilliant alternative to traditional neutrals.' Seen in the living room, along with flashes of red, they evoke a wonderful richness.
Soft pink paneling enhances the period feel.
Dining area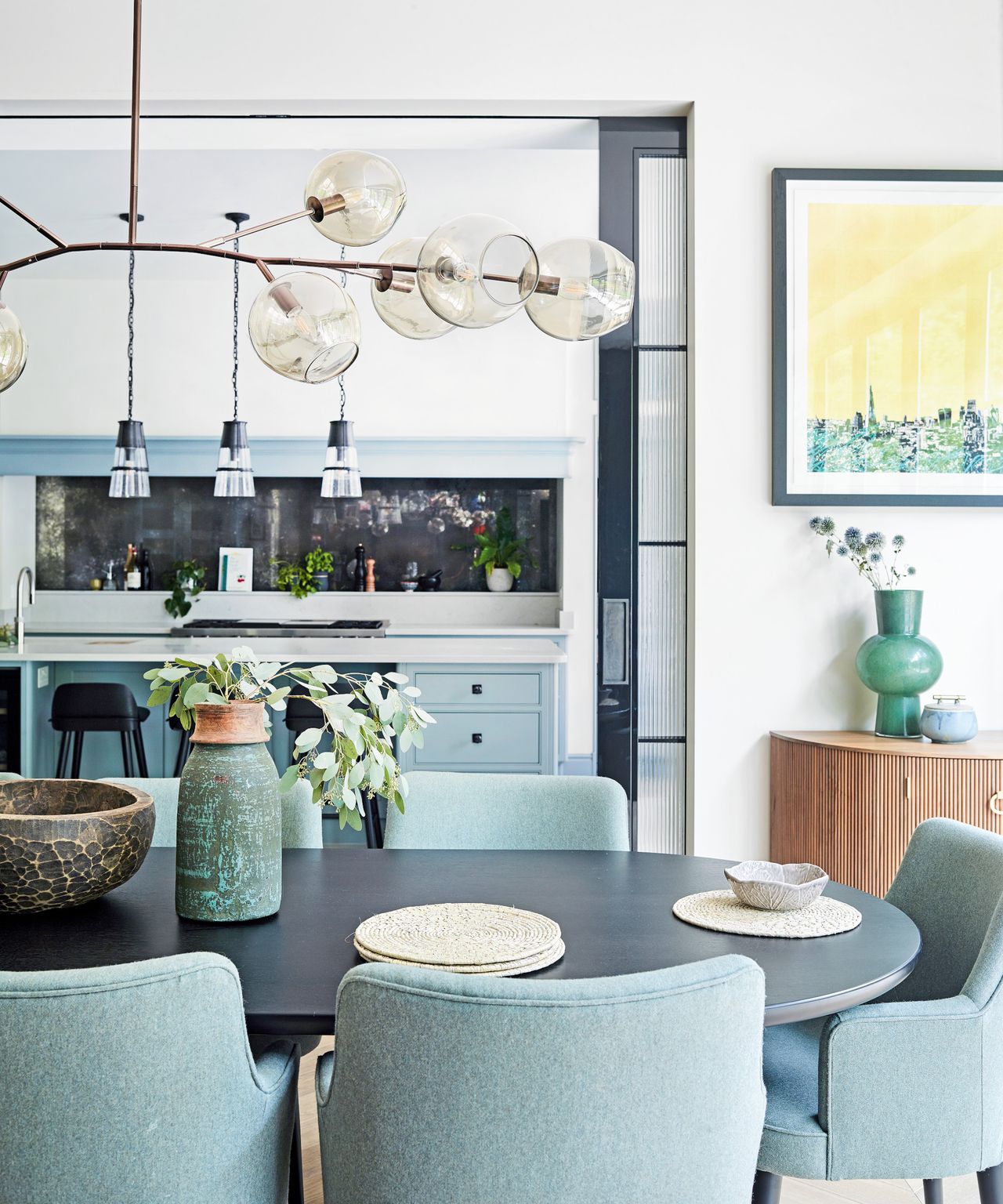 Taking into account zoning, dining room ideas include effective elements such as the metal-framed pocket doors dividing the dining room and the kitchen. (A free-standing divider helps to create a distinct informal living space just beyond.) The steel-framed pocket doors and a curved ebony table bring graphic elements to the space.
'Though this is a hard-working family home, the idea was that it could be relaxed and playful too,' says Nicky. 'We echoed the country feel of Amalie and Charles' previous home with a generous kitchen island (seen above), for example, but we switched up the schemes by using stronger colors and more graphic silhouettes.'
Kitchen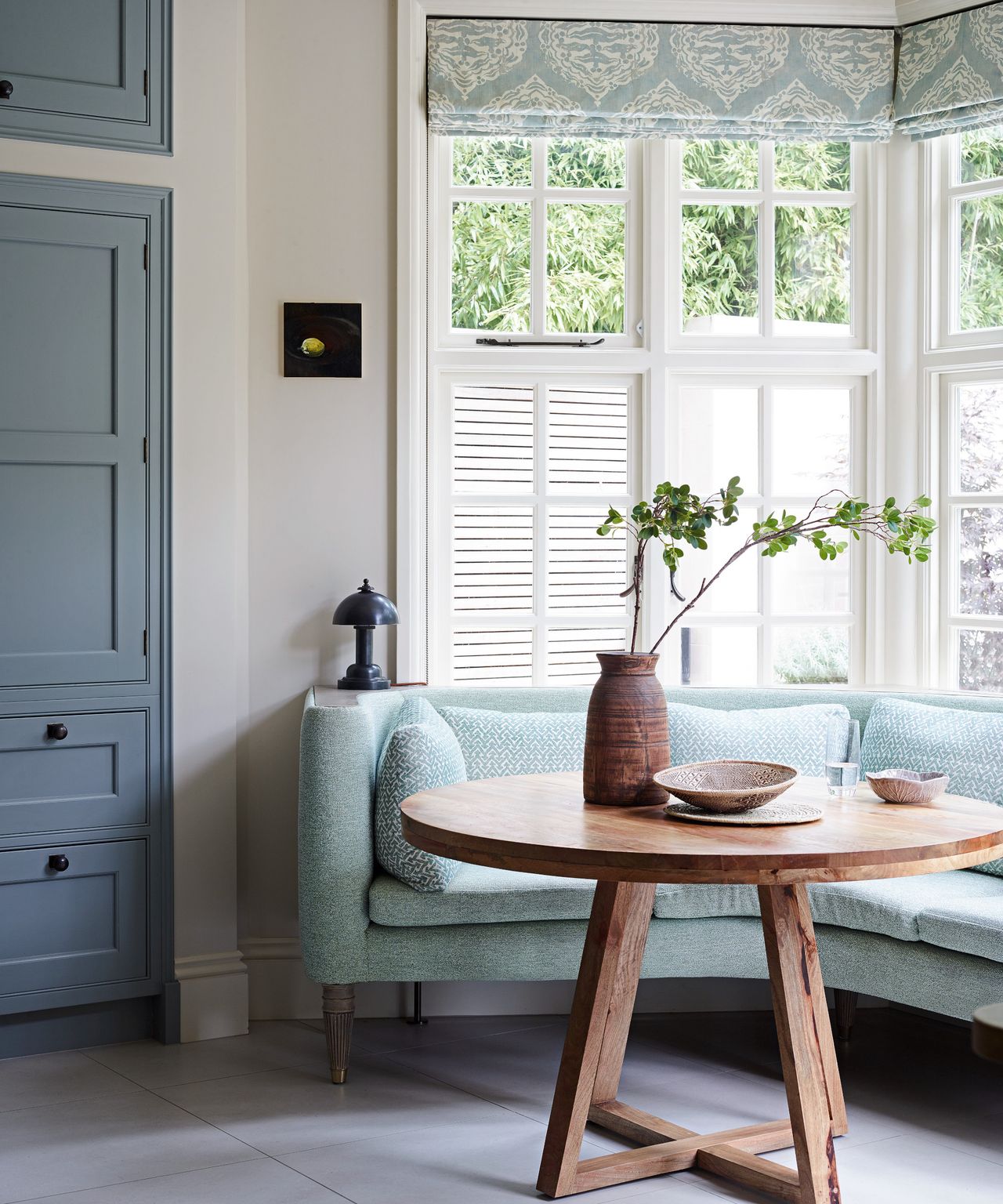 Creating an informal dining area in the kitchen was one of Nicky's kitchen ideas. Custom made sofa-like seating injects a sumptuous touch.
Bedroom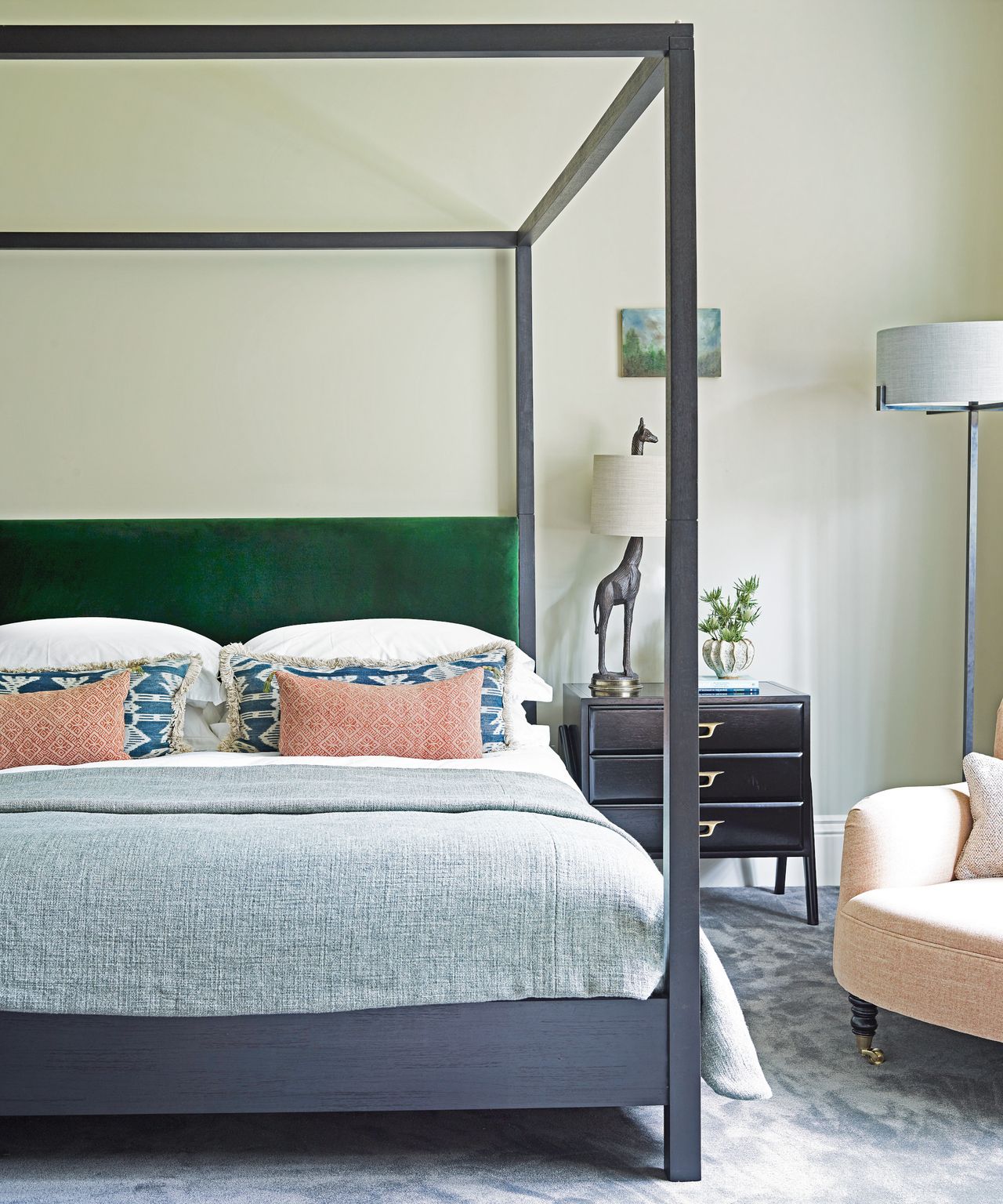 Bedroom ideas included choosing an unadorned four-poster bed to complement the graphic shapes throughout the home. 'We wanted that sense of opulence without any fussiness,' says Amalie.
En suite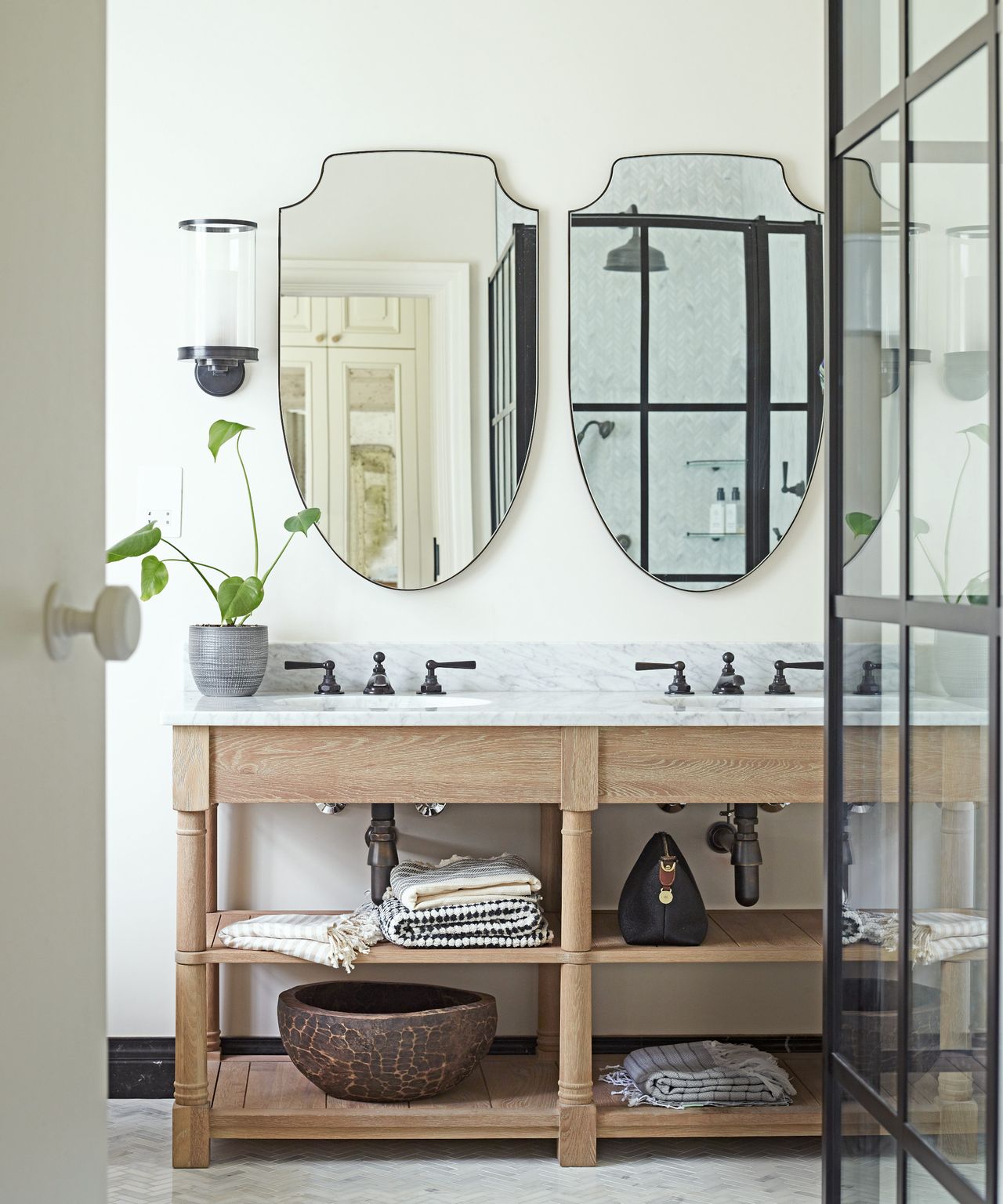 Introducing inviting texture with a marble-topped washstand and herringbone floor tiles was one of the bathroom ideas, resulting in a practical yet elegant space.
Shower room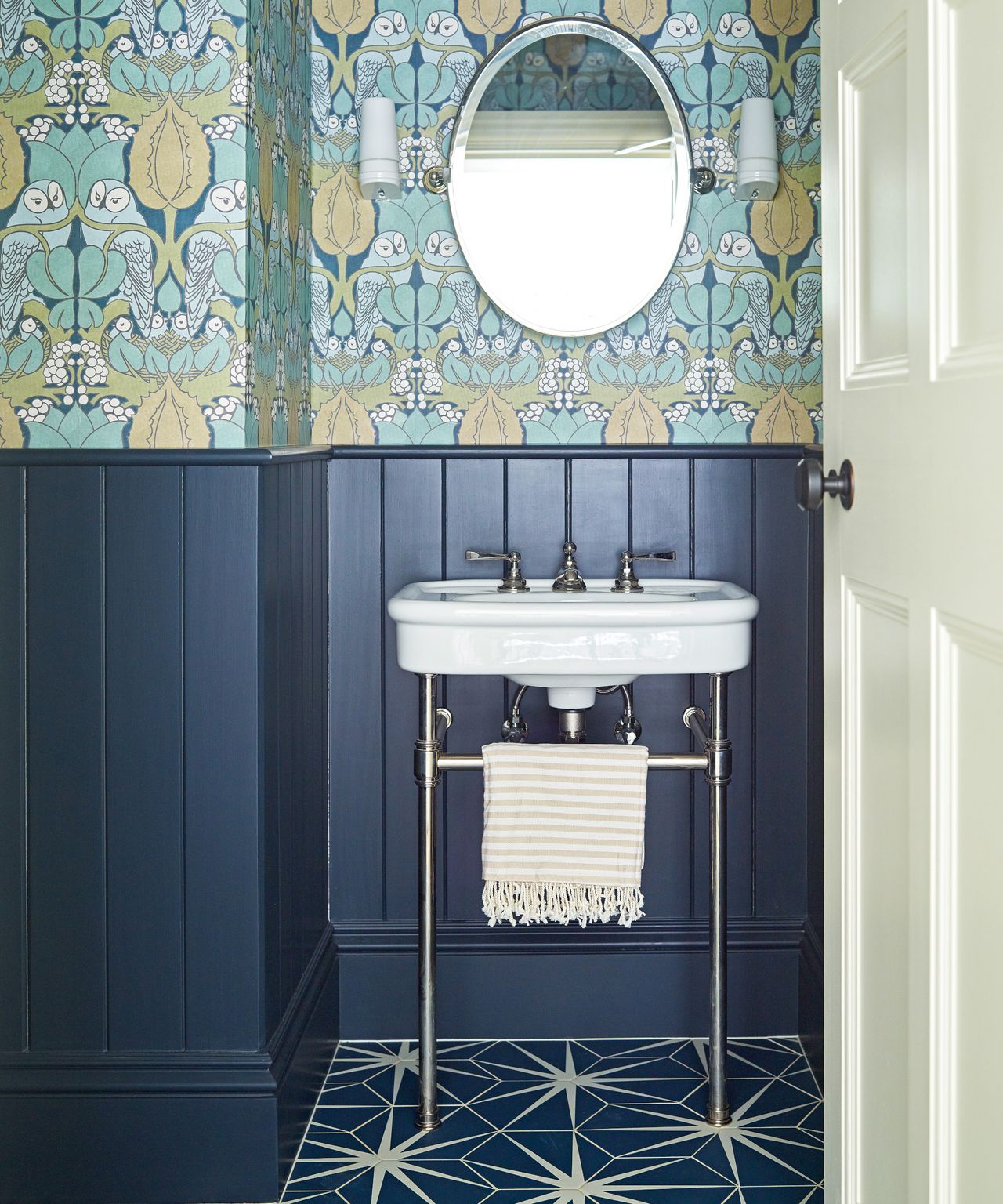 A considered pattern clash is pulled together with a cohesive palette of blue, white and green.
'I think most people would agree that if they knew what a project entailed from the get-go, they mightn't go through with it,' says Charles. 'Fortunately, we didn't anticipate the scope of the works, which meant we weren't daunted.' 
At times, the family needed a friendly nudge to embrace decorative elements that they wouldn't usually have considered. 'I never thought that we'd go for an avocado suite in the cloakroom, for example, but combined with the navy and gold foil wallpaper, it strikes just the right modern-retro look,' says Amalie.
At one point during the renovation, Charles asked of their decorative choices, 'What if we've gone too far?'. 'If it feels that way once the project is complete, I won't have fulfilled my role,' reassured Nicky. Needless to say, the finished interiors have turned out to be testament to a job brilliantly well done.
Interior design/ Violet & George (opens in new tab)
Photographs and styling/ Mary Wadsworth
Text/ Emma J Page
Related Posts